Sylvia Gottwald
SYLVIA GOTTWALD studied Fine Arts in Rome and Montreal before arriving in the Cambridge, Massachusetts to earn a Masters in Architecture at Harvard, and pursued further study in urban planning at MIT.
She worked internationally as an architect and urban planner and promoted preservation of cultural and natural heritage. Her environmental focus was protection of marine life threatened by overexploitation and pollution.
At the outset of the millennium, her passion for design would merge with hermission for the protection of oceans. Her worldwide travels allowed her to indulge her passion for collecting rare shells and handcrafted treasures made from mother of pearl.
The first collection of objects d'art and jewelry was produced in Paris, France with the materials sourced from the sustainable pearl farms in the South Pacific.
Her two galleries in Korcula, Croatia and Washington, D.C. are known for jewelry with timeless chic made with best quality shells and pearls. To this day every effort is made to travel to South Pacific and buy unique exotic objects to be up cycled or to buy best materials from sustainable aquaculture farms, to be made into objects that awaken senses and deepen one's appreciation of the beauty of nature.
The objects & jewelry to be found in the two galleries go beyond fashion. The exquisite designs with pearls, nacre (mother of pearl) and shells are one of a kind.
The goal is to inspire an authentic passion and appreciation for great design with pearls, nacre and shells.
The mission is to raise awareness about shells all other sea creatures very endangered by ocean acidification, pollution and climate change.
Master of grand design, Gottwald is also known as an eco-luxe pioneer. The jewelry from natural materials juxtaposed against steel and rubber, have dazzled European, Asian and American audiences in every venue in which they have been exhibited and sold.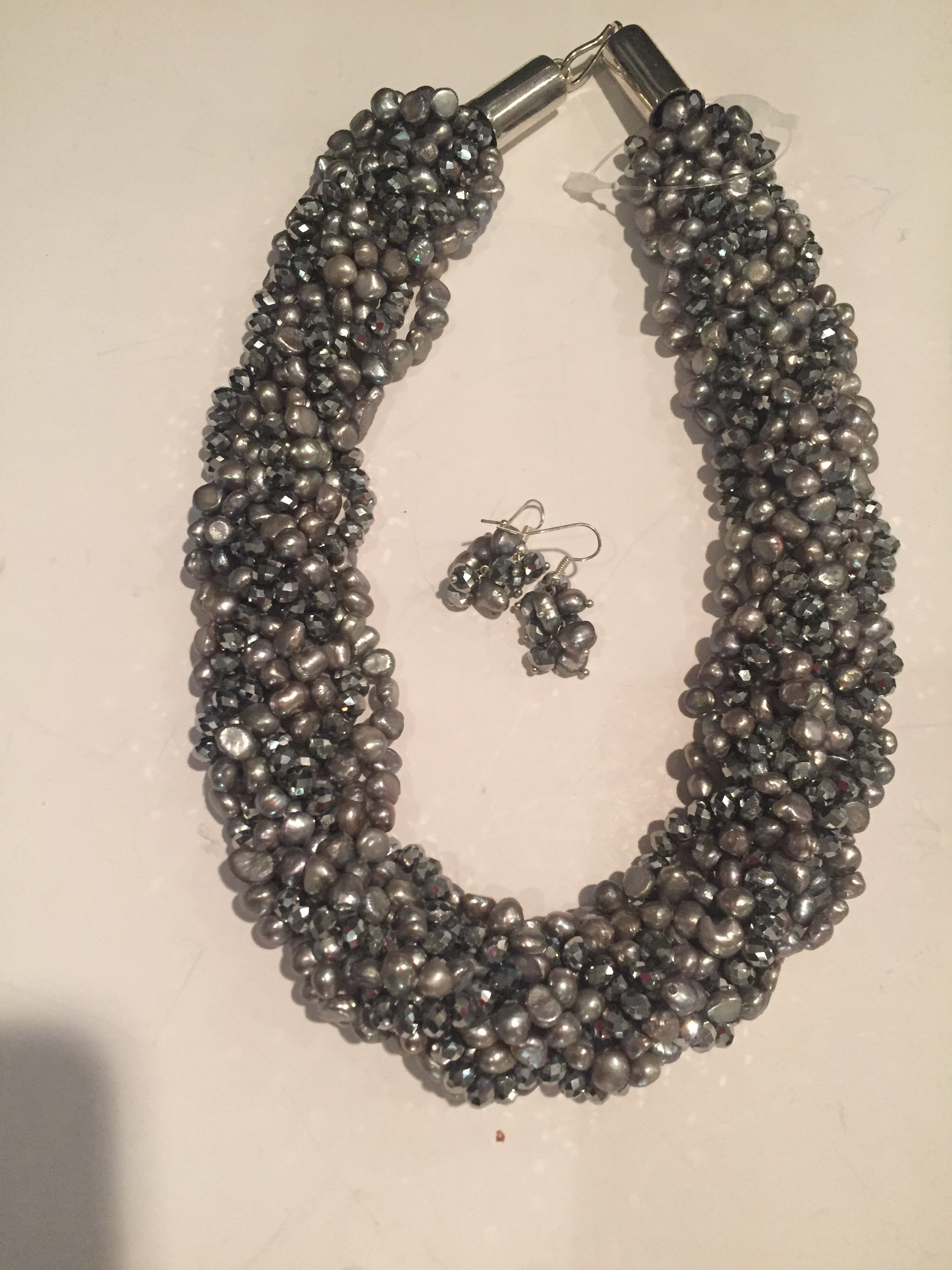 Sylvia Gottwald
Matching Earring and Necklace | grey pearls & swarovski crystal beads.Braided 8 strands with silver clasp.
Sylvia Gottwald
Brooch Black mother of pearl , with Vintage carved Calcedony stone in Silver frame